COLOR DUCT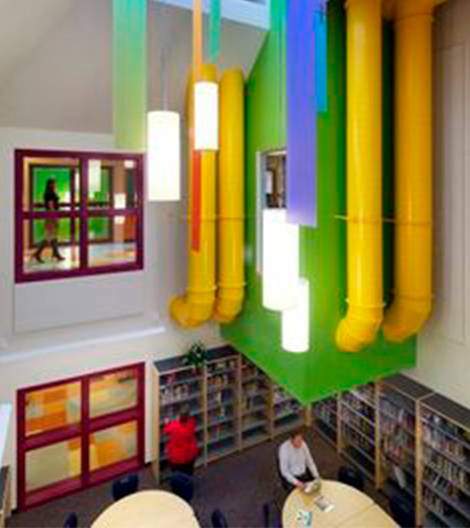 We've just given every owner, architect, engineer and HVAC professional one more reason to choose SET Duct Manufacturing. First, ​COLORDUCT is manufactured using G-90 galvanized steel by our skilled tradesmen, then it is chemically cleaned and color treated to insure a bright durable finish.
COLORDUCT Systems stay bright and beautiful for many years to come. The finish is remarkably durable and will not fade. The finish is warranted from flaking and chalking for 20 years.
Not only is ColorDuct durable, but it can be provided in colors to match school mascots and company logos. It can also offer a 30% savings to the overall project. Painted sheet metal ductwork by ColorDuct has a much more attractive and professional look than fabric duct.
COLORFUL POWDER
500 TECHNICAL DATA
Made from 26 gauge to 18 gauge, G90 hot dipped galvanized steel with Powder 500 coating:
Flat oval and rectangular ductwork available
16 standard colors
Can be bent to 1T radius without fracture of coating
Carries a 20-year warranty against chalk and fade - your assurance of quality

Explore and expose with ColorDuct
CHECK OUT OUR BROCHURE!
---